Bright white teeth are all the rage at the moment! Who doesn't want those pearly whites to be gleaming in all of their Instagram and Facebook photos? Some lucky people have naturally white teeth, but for those of us who don't there are many products and different procedures available to help achieve this polished look.
As with any product on the market there are always the pros and cons to consider. There will always be questions that you ask yourself before making any final decisions: Is this the right brand? Is it going to hurt? Will this damage my teeth?
With that in mind, let's look at the difference between professional whitening verses at home whitening.
Over the counter whitening
There are many different types of over the counter whitening products to choose from. These can be bought at your local supermarket or pharmacy. All of which are designed to be used at home. They can vary from whitening toothpastes, strips or gels used in preformed trays. The upside is that it is generally the cheaper option, however the whitening process is likely to take a lot longer. This is due to the strength of the whitening solution being a lot lower than what you would be provided by your dentist.
Some over the counter whitening products can be harmful, certain pastes may be more abrasive on your enamel and can gradually wear down your teeth.
Professional Whitening
This is perhaps the safer option when it comes to whitening your teeth, the products are all extensively tested and the process is monitored closely by your dentist.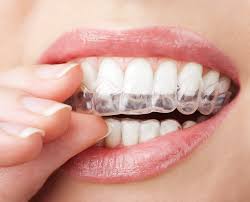 There is the option of 'in chair bleaching' which is done over the course of approximately one hour and shows immediate results. The other, generally more popular option is the use of professional whitening gel using custom take home trays.
This is where your dentist will take impressions of your teeth. Special trays are then made to fit your teeth perfectly, with spacers to precisely hold the gel in the correct position. Your dentist will supply you with the whitening gel and instruct on how the process works.
Used for about 45 minutes daily over the course of a couple of weeks, your teeth become gradually lighter until you are happy with the shade. This is a great way to whiten your teeth, as you are in control and can stop when you are happy with your progress.
The main differences between the systems comes down to time and cost. So if you're thinking about whitening, make sure to do your research or feel free to contact us at Redcliffe Smiles. We are here to help you make the choice that works best for you.
Happy whitening!