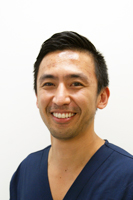 Dr. Alf Le
Alf graduated from the University of Queensland in 2002 with First Class Honours. He began his formal dental career within a large group practice on the Gold Coast for 5 years, where he refined his skills in all aspects of general and cosmetic dentistry. During his tenure, he gained a special interest in children's dentistry. Many of his patients still travel to Brisbane to see him.
In 2004, Alf was invited to work alongside Dr. Neil Latcham at his specialist periodontal and implant practice, which he continued practicing in for the next 9 years in conjunction which his general private practice. Throughout his tenure, he developed an in depth knowledge of complex restorative, cosmetic and implant cases, maintaining his desire to remain at the cutting edge of dental technology and procedures. He also particularly enjoys the role of mentoring other dentists.
Alf decided to move back to his hometown of Brisbane in 2008 where he opened his first dental practice. The emphasis was on providing affordable, personalised, gentle, comprehensive and high quality dental care.
Alf is friendly, caring and professional. As you see when you'll meet him, he also has a great sense of humour.
Alf will never make you feel rushed and prides himself on taking the time to get to know each and every one of his patients personally.
When Alf manages to take time off, he likes travelling and photography. He is a real sports fan and enjoys playing touch football, golf, tennis, squash and trail riding, just to name a few.
Alf is also a real dog lover. You may see photos of his King Charles Cavalier, Bentley, posted around the surgery.
If you have any questions for Alf, click here. He is always happy to help.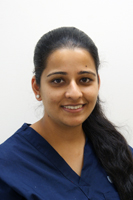 Dr. Simran Kaur
Simran graduated from James Cook University in Queensland. She has a wide experience from working in vast locations such as Cairns, Darwin, Cambodia and in West Brisbane in private practice.
She has become a valued member of our team and has established a reputation for providing friendly, gentle and high-quality dentistry. Her commitment to providing her patients with the highest quality of care means she spends a lot of her time outside of work attending courses and seminars in postgraduate dentistry to keep up to date with the newest advancements and latest technologies.
She has a gentle chairside manner, and genuinely cares about her patients.  Simran is approachable and friendly and strives to make every patient feel comfortable and important.  Even though Simran enjoys all aspects of general dentistry, she has a keen interest in oral surgery, restorative and children's dentistry.
In her spare time, Simran enjoys travelling, spending time with family and friends and going out for dinner.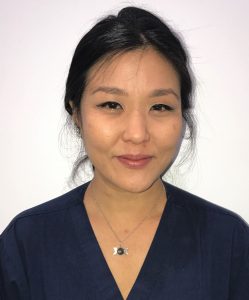 Dr Jill Segawa
Jill comes from a family of dentists and was born and raised in Honolulu, Hawai'i. Prior to moving to Australia, she obtained her Bachelor in Art from the University of Hawai'i at Manoa for painting and printmaking and also studied at Parson's School of Design in New York City. Jill moved to Australia in 2010 and graduated from Griffith University's School of Dentistry with Awards for Academic Excellence.
As a general dentist, Jill has experience in both public and private practice. Along with being part of the Redcliffe Smiles Team, she also works with Dr. Neil Latcham at his specialist periodontal practice on the Gold Coast. She has a passion for preventative care and is very dedicated to helping her patients on their path to oral health. She also enjoys restorative dentistry, where she is able to link her commitment to the most up to date science with her artistic background.
During her time off Jill enjoys being near the ocean, kayaking, and bush walking. She likes to cook and is always looking for a new recipe to try! She is an avid video gamer and loves to dance and travel.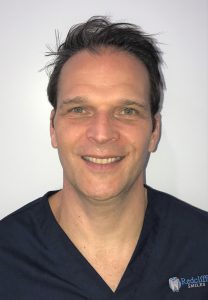 Dr Gus Freitas
Gus graduated with a Bachelor of Dental Science in São Paulo, Brazil. He had his training in all areas of prosthodontics and TMJ for an extensive period and is a member of ITI since 2005. Gus has been living in Australia for the last 10 years. In 2017, he graduated in Dental Implantology from James Cook University, in Cairns. His passion is to share his experiences in Oral Rehabilitation and Implants around the world.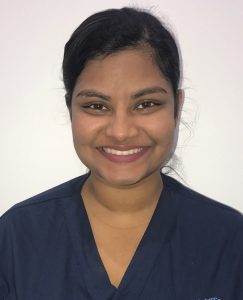 Dr Raisa Tasnim
Dr Raisa Tasnim graduated from the Griffith University Dental School with awards for academic excellence. She has been involved in the private and public sector in South-East Queensland. Passionate about improving access to oral health, she has also been a volunteer dentist for outreach clinics based in Nepal and Cambodia.
Raisa recently joined the team at Redcliffe in 2018 after making the move up from Gold Coast. With her empathetic and reassuring nature, she is committed to alleviating patient anxiety in the dental chair. As such, Raisa's priority is taking her time with each patient to help them improve and maintain their oral health to the highest standard.
Beyond dentistry, Raisa enjoys the performing arts and has been involved in several theatre productions. She is a keen traveller, self-confessed 'foodie' and in her spare time maintains a creative writing blog. In Brisbane, she loves exploring the local markets and buying indoor plants for her collection.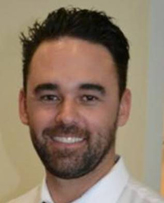 Ryan Erbacher – Dental Prostheist
Adv.Dip.DP.  Dip.DT.  RDP(Qld).  RDT.(Qld)
Ryan joins Redcliffe Smiles, bringing 14 years of experience in construction of quality removable dentures, crowns and bridgework.  Throughout this time he has also developed a special interest in dental implants prosthetics.  Ryan is passionate about continuing education to ensure his practice includes the most modern advancements in dental technology to ensure his patients receive the highest possible standard of care. His passion led him to London, where Ryan spent two years further refining his skills.  In addition to his experience, Ryan has also obtained an Advanced Diploma in Dental Prosthetics which has allowed him to work alongside prominent dental specialist Dr Neil Latcham, since 2009.
If you have any questions for Ryan click here, he is happy to assist you with any of your denture needs.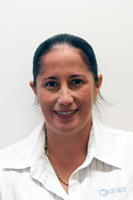 Kelly Eastwood – Practice Manager
Kelly has been working with the Alf and the dental team for the past 7 years. She is in charge of the day to day running of our practices. Visiting the dentist isn't usually something most people look forward to, but Kelly embraces her very important role. Kelly will ensure your experience with us is as relaxed, convenient and personalised as possible. Kelly will ensure that our team delivers on our promise to provide you with the the best possible service without compromise.
Kelly loves on-line shopping and traveling home to New Zealand for holidays.
Kelly welcomes any suggestions you may have to help us improve our service and is happy or assist you in any way she can. Click here to contact Kelly by email or call 1300 428 715
Our nursing team