A crown is a tooth-shaped cap that covers a damaged or weak tooth and fully encases the visible portion of the tooth. Crowns restore shape, size, strength and appearance whilst protecting the tooth from damage.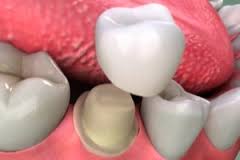 A crown may be needed for a number of reasons, these reasons can include:
To protect weak teeth

Restore a broken tooth

To cover and support a tooth with a large filling or minimal tooth structure

To hold a bridge in place

Cover a dental implant

Or for cosmetic modification
There are many different uses for crowns and there are also different types of crowns that can be used. There are metal, porcelain fused to metal, resin, all porcelain and ceramic crowns. Each type of crown has different benefits for each person and can be chosen depending on the situation and the tooth.
Metal (gold alloy, other alloys or a base metal alloy)
Metal crowns require less tooth structure to be removed during the prepping process, the wear to opposing teeth is minimal and they can withstand biting and chewing forces well, lasting the longest in terms of wear. Metal crowns rarely chip or break although aesthetically are not ideal, especially for anterior teeth.
Porcelain-fused-to-metal
These crowns are colour matched to the adjacent teeth, making them a good choice for both anterior and posterior teeth. They do however cause more wear to opposing teeth compared to metal or resin crowns. These crowns look most like a normal tooth, although the underlying metal can show through as a dark line especially around the gums and can also chip or break off with time.
All-resin
All-resin crowns are less expensive than other types, they can be colour matched to adjacent teeth and are good for front teeth. They do however wear down over time and are more prone to fractures compared to other materials.
All-ceramic or All-porcelain
These crowns have a better natural colour match than any other type of crown material. They are most suitable for people with metal allergies, however, are not as strong as porcelain-fused-to-metal. They will wear down opposing teeth more than metal or resin crowns but are a good choice for anterior teeth.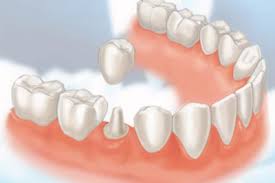 There are two visits involved in the making of a crown, the first visit is to prepare the tooth and the second visit is the placement of the permanent crown.
The first visit is very important, it is where the dentist will prep the tooth for a crown to be fabricated to fit around the prepared tooth. Your dentist may want to take some x-rays to check the roots and also the vitality of the tooth. This also helps to identify whether there is any extensive decay or if the tooth is at risk of infection, if this is the case your dentist may need to perform a root canal treatment before commencing with the crown.
The tooth will be numbed so there will be no pain or sensitivity for the patient, the tooth will then be filed down along the chewing surface and the sides. The amount of tooth structure removed will be dependant on the type of crown material used as the thickness varies between materials.