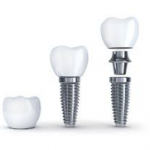 Dental Implants
Dental Implants have caused a revolutionary change in dentistry. The more advanced our technology becomes, the more exciting our treatment options become. So, what are they, how do they work and why would you want one? Let's break it down.
What is a Dental Implant?
A dental implant is a small titanium fixture that is carefully inserted into the jaw bone. This serves as a replacement for the roots of the teeth that have been lost due to injury, disease or decay.
On top of the implant, an abutment and ceramic crown is then placed. Implant retained ceramic
crowns can be impossible to distinguish from natural teeth, both functionally and cosmetically.
Some of the major benefits of dental implant treatment is that they are strong, stable, secure and reliable so you can eat quite normally after treatment is complete.
They provide an aesthetically pleasing result, blending with the adjacent teeth.
When can dental Implants be used?
It doesn't matter whether teeth were lost through accident, disease or decay, dental implants are an excellent tooth replacement for many patients.
Our dentists will be able to assist and inform you whether you are a good candidate and what option best suits your circumstances.
Dental Implants can be used when:
A single tooth is missing
Several teeth are missing
All teeth are missing
So basically, if you are missing one or more teeth then an implant may be an option for you.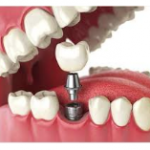 How does it work?
After detailed consultation and examination, a treatment plan will be prepared by your dentist. Only once you are happy with the plan, will your dentist perform surgery to place the implant.
Following the placement of your implant, an integration period of between 6-16 weeks is required. This to allow for your bone to fuse to the implant through a process called osseointegration.
When your dentist is satisfied with the stability of your implant fixture, the final restoration can take place.
Care and maintenance
With long term studies over more than three decades and over a million patients treated, implants are highly successful- with a 95% success rate. With good oral hygiene and regular check-ups this will help ensure a long lasting solution.
Let's recap! An implant consists of three parts, the implant fixture (screw), the abutment and the crown.
The implant fixture is placed in the jaw and acts as a root, the abutment and the crown are attached to this to form a fully functional tooth replacement.
Pretty cool stuff, right? Implants can be used to replace single, multiple or all missing teeth depending on the patient. With the correct care and maintenance they are an excellent treatment option for those with missing teeth, as they have an excellent long term prognosis.
This is why so many people are now opting for this as a solution to their missing teeth.
This is all of your basic information regarding dental Implants, however if you believe that this may be a good option for yourself and would like to know more then please don't hesitate to contact us on 3203 7177. We love to answer any questions you may have and assist you in any way we can.